Y3 Featured in Beijing Evening News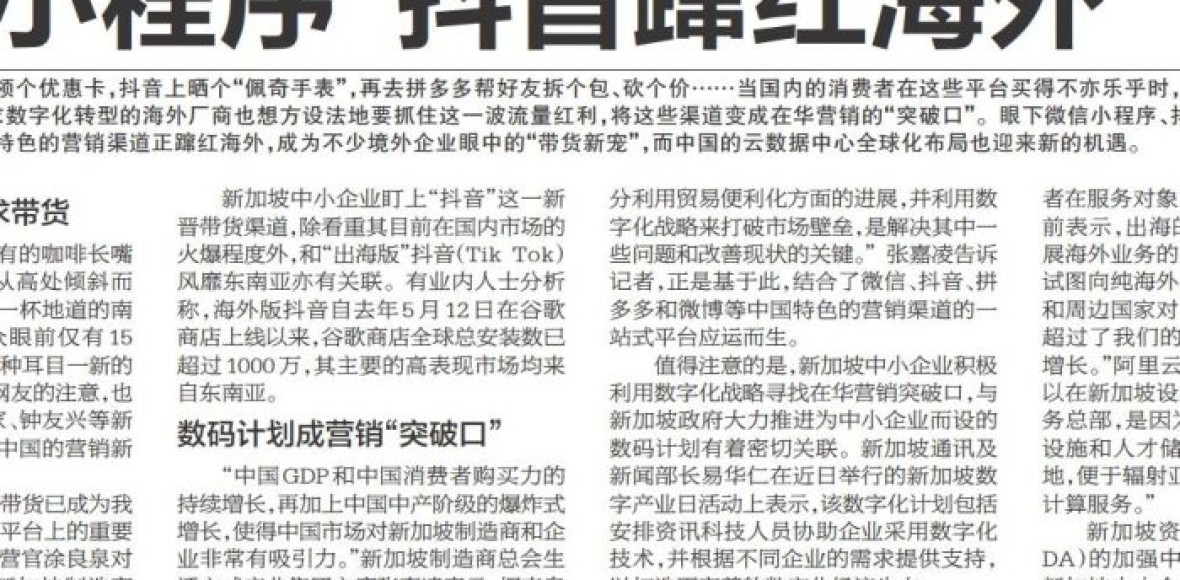 Singapore, 2 July 2018 –Leading omni-channel software solutions provider, Y3 Technologies (Y3) was  recently featured in the Beijing Evening News , a popular daily newspaper in Beijing. Titled: The Rising Popularity of WeChat Mini Program & DouYin Overseas, the article mentions the rise of Chinese social media platforms such as WeChat mini programs, DouYin and Pingduoduo.
The article also states that Singapore small and medium enterprises (SMEs) have been actively employing digitization strategies as well as big data analytics to create new opportunities and break into the Chinese consumer market.
Excerpts from article:
Y3 Technologies Chief Operating Officer Gabriel Tho said: "The use of social media such as DouYin has become an important part of our cross-border trade, logistics and supply chain platform." In May 2018, Y3 inked a tripartite agreement with Singapore Manufacturing Federation (SMF) and SME digital solutions provider VeriTAG to develop a one-stop cloud platform for product registration, shipment, custom and omni-channel marketing for over 3,000 Singapore SMEs seeking to expand into China. "We will also consider the use of WeChat mini program, Pingduoduo and other popular Chinese social media platforms to carry out product marketing activities, and use big data to help our local enterprises better understand the needs of the Chinese consumer."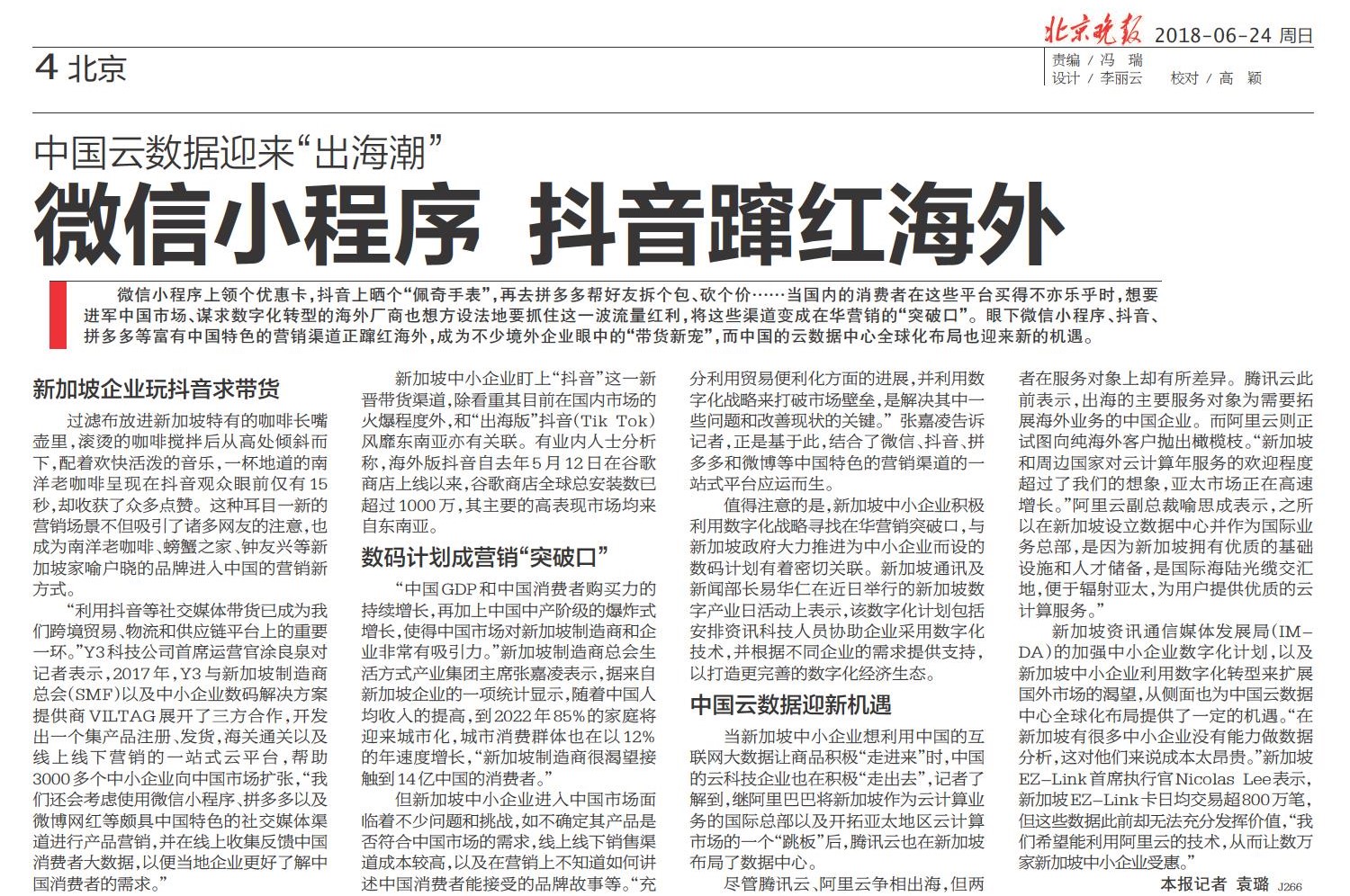 The tripartite agreement was signed on the 21th May at the inaugural SG: Digital Industry Day, organized by the Infocomm Media Development Authority (IMDA). The agreement aims to help support Singapore-based manufacturing businesses with simplified, ready-to-use capabilities in the areas of Internet of Things (IoT), analytics and blockchain to easily ship, track and sell products overseas and expand into China.
Click here to view original article (in Mandarin)
About Y3 Technologies
Y3 Technologies is a Singapore-based, award-winning software solutions provider. Y3 provides a full suite of omni-channel solutions – delivering analytics-based tools & capabilities, purpose-built supply chain management applications and customized eCommerce, CRM & loyalty services, to enabling companies to better plan, manage, optimize fulfilment and deliver winning customer experiences. Today, Y3's proprietary solutions manage more than $50 billion in inventory across 120,000 different unique products every year and are integrated with more than 11,000 connected point-of-sales, handling over 50,000 transactions every day.  Its clients include IKEA, Dell, Starbucks Coffee, and Infineon Technologies.
About veriTAG
veriTAG seeks to create a one-stop solution platform into China for food using its patented authentication system as the foundation, veriHUB, as a central database system with applications and a rules-based engine and veriSHOP to link customers to the products. Currently, veriTAG has more than 40 merchants, 100 unique products on board with strategic partners, which include ito yokado, Isetan, and G Super.
Related Posts